Awakening Beauty: An Illustrated Look at Mankind's Love and Hatred of Beauty (Book Review)
Awakening Beauty is the first book written by Dr. Anthony Napoleon but arguably his best. It covers everything you could possibly know about the unconditional love and seething hatred mankind has for beauty.
By now, you know that Dr. Anthony Napoleon is one of my favorite authors of all time.
His book Shadow Men truly changed my life in ways that I cannot even begin to describe.
For many individuals, reading Shadow Men truly is an "event" because it represents that first big step toward learning the deep, dark truth about the world. Ultimately, it alters the course of your life for the better.
Up until a few months ago, you could argue that Shadow Men was my all-time favorite book.
However, that has all changed after reading another book by Dr. Anthony Napoleon called Awakening Beauty: An Illustrated Look at Mankind's Love and Hatred of Beauty. 
My mind is blown after reading this!
Why should we study beauty?
Who ever thinks of "studying" beauty? Is beauty even worth studying?
Absolutely, especially when you consider just how important beauty is.
Just how important is beauty?
Beauty is this most important thing in the world.
This might be a bold statement but it is the truth. And the truth of the statement is not based off of people's opinions but rather their actions.
Beauty is more important than money. It is also more important than family and friends.
Nothing causes more pleasure than contact with beauty and nothing compares to the seething hatred one experiences when there is an absence of beauty.
Beauty is the ultimate currency. 
Women spend their entire lives chasing beauty. They will do just about anything to enhance their beauty. Today, they religiously use Photoshop or any other means of digital deception to appear beautiful.
Men spend their entire lives doing everything they can to accumulate beauty. Though we might not admit it, every move we make is somehow related to the goal of accumulating beauty.
Men amass enormous sums of wealth and what do they do? They go out and they get beauty.
A woman's worth is measured in terms of her beauty.
A large measure of a man's worth is rooted in his ability to accumulate beauty.
Awakening Beauty in Dr. Anthony Napoleon's Own Words
This is rare appearance where Dr. Anthony Napoleon explains beauty's influence on men and women.
This short clip provides fascinating insight into just how deep we can go into studying beauty.
Beauty cuts deep, much deeper than a pretty face or sexually dimorphic physique.
Nothing compares to the roller coaster ride of our love and hatred of beauty.
This is the world that you will discover in Awakening Beauty.
Awakening Beauty: An Illustrated Look at Mankind's Love and Hatred of Beauty (Review)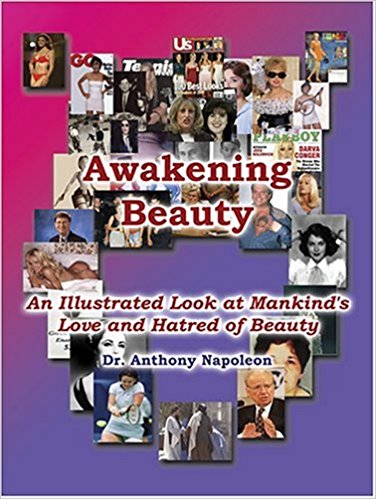 I love this book because it fills a GIGANTIC hole in our understanding of the human condition.
Beauty is the most important thing in the world.
We are obsessed with it. It is the provider of both our deepest pleasures and most soul-crushing pain.
And yet, we know so little about it. We know what beauty is. We can immediately recognize it.
But it remains this nebulous concept that no one can quite explain.
That's what Awakening Beauty is. It is a manual on everything related to beauty.
The book is divided into 17 chapters. These are:
1. Beautiful Women
2. Makeup and Beauty
3. Rich Man/Pretty Woman
4. The Cult of the Beautiful Egg
5. Plastic Surgery
6. Aging
7. President William Jefferson Clinton
8. Beauty Pageants
9. Wardrobe
10. Murderous Rage
11. Apples, Peaches, Pumpkin Pie
12. Beauty and Substance
13. Beauty and Genetic Engineering
14. Howard Stern
15. September 11, 2001
16. Scientific Research
17. What does it all mean?
I think the book was very well-written and I like the fact Napoleon's bold claims/assertions are backed up by TONS of anecdotal evidence and research.
He also includes a bunch of pictures (or illustrations) that substantiate his bold claims.
Overall, this is a very complete work from start to finish.
My Favorite Part of Awakening Beauty (And the # 1 reason why you should read it)
It's tough to narrow it down to one particular chapter.
Chapters 1-6 are truly eye opening. "The Cult of the Beautiful Egg" might be the single most important piece on modern-day dating ever created.
The chapters on plastic surgery and aging are also on another level.
Chapter 10 on murderous rage was also very insightful and it made a lot of sense of what is going on in the world.
I whole-heartedly recommend this book to anyone who wants to get a better grasp on understanding beauty, especially as it relates to women.
How can you improve your chances at attaining beautiful women? Well, a good place to start would be with getting inside the minds of beautiful women.
How do beautiful women think? How do they act?
You will find these answers to these questions (and more) by reading Awakening Beauty.
Share This:

0

0

0