Think and Go Hustle Review
– From the mind of Sonny Arvado (November 11, 2013)
"I don't know what to do.
I'm lost.
What the fuck happened?
It wasn't supposed to be this hard. I feel trapped because I have no money and no options.
I can't even get a job.
Why can't I get a job?
Why the fuck can't I get a job?!!!!
What am I going to do for money?
Should I start my own business? I-I-I just don't know anything at this point.
Nothing makes sense for me anymore."
These are the words of a defeated man with a defeated mindset.
These were my words.
This was my reality four years ago.
I remember this exact moment like it was yesterday. It was a typical shitty, grey November day in Dallas, Texas.
I was in my hotel room at The Dallas Westin Park Central staring out the window into grey nothingness.
3 days. 4 interviews. Zero job offers. I was promised a job and flew out on my own dime. Some c*cksucker from my alma mater promised me a job but he could not deliver.
He made it seem like he was a big shot and could make those types of decisions. But in reality, he was a nobody with a big mouth…
I was going home empty handed. The entire trip was a waste… It was a waste of time, money, and energy.
I was lost.
People often try to knock on my credibility because they think I was given everything. But it's not true. I have experienced pain and dealt with my own own disappointments.
Most of all, I know the feeling.
I know what it feels like to be completely rocked by the real world and not know my place in the world. I know what it's like to be desperate for guidance.
Think and Go Hustle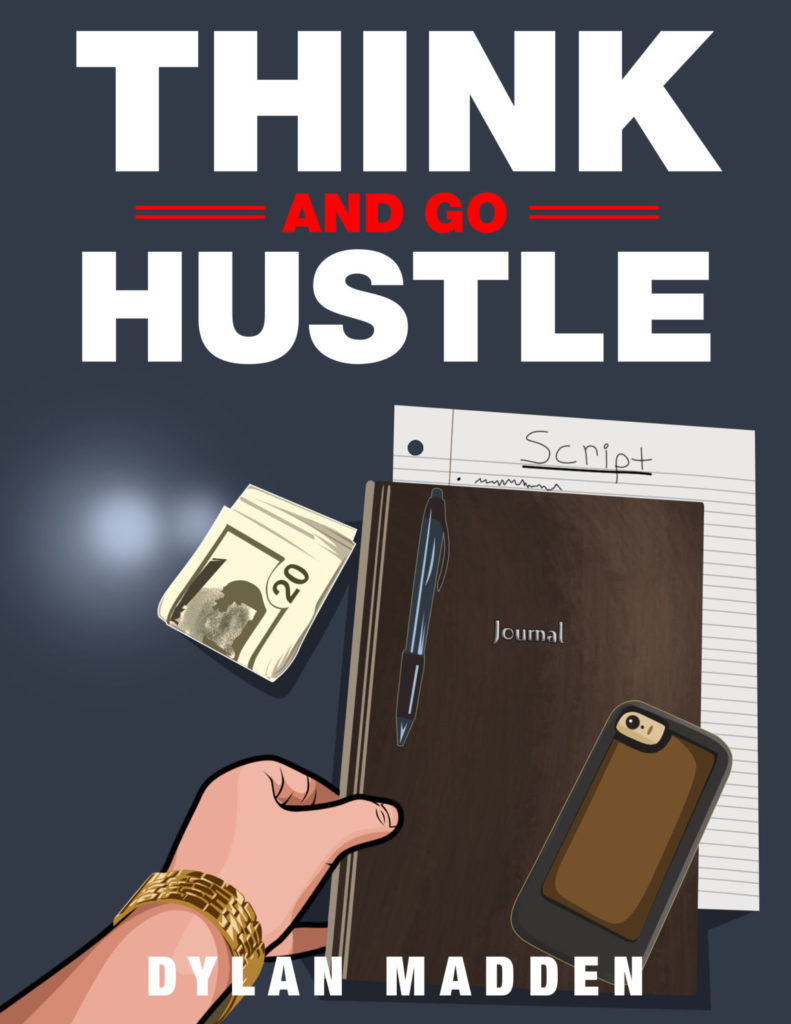 Think and Go Hustle is the debut book written by Dylan Madden of Calm and Collected.
To be honest, it's the book I needed in 2013 because it is written from the point of view of someone who went through what I experienced.
I needed infrastructure but I never got it from one concrete source. It took me years to put it together.
Dylan's book is concise. It's 68 pages long and gets to the point.
How do you transcend the confusion?
How do you eliminate those seeds of doubt?
Most of all… the voices.
How do you make those f*cking voices go away? You know the ones I'm talking about. Every young man is haunted by those voices at 2 AM. They make it impossible to sleep.
SILENCE.
68 pages.
Staying true to his calling card, Dylan informs you how to remain calm and collected in the face of adversity. Anger and frustration will get you nowhere. Haunting your consciousness with a million "what ifs" will get you know where.
It doesn't matter where you start. The only thing that matters is how you keep moving forward.
The book is beautifully organized because Dylan explains his character arc in a relatively short period of time.
How did Dylan evolve from being just like every other lost kid to being a laser-focused man on a mission?
More importantly, how can you evolve into your own colorful character and make money in the process?
All you have to do is get Dylan's book and start applying the information.
In less than 1 hour, the answers will already begin to surface.
Purchase on Amazon here: Think and Go Hustle
Share This:

0

0

0