Dearcatcallers Instagram Exposes the War on Men
This article is a case study on the Dearcatcallers Instagram account.
What is Dearcatcallers?

Dearcatcallers (@dearcatcallers) is an Instagram account that was started in August 2017 by a 20-year old student from Amsterdam named Noa Jansma. Since then it has evolved into a movement using the hashtag, #dearcatcallers.
Supposedly, Miss. Jansma is so attractive that she deals with "catcalling" on a daily basis.
However, rather than ignore her "catcallers", Miss Jansma decided to do something completely out of the ordinary.
She decided to embark on a 1-month long project where she snapped selfies with her "catcallers."
The first three posts on the Dearcatcallers Instagram account (dated August 29) are exactly the same and serve as it's mission statement. It reads:
#dearcatcallers, it's not a compliment. This Instagram has the aim to create awareness about the objectification of women in daily life. Since many people still don't know how often and in whatever context 'catcalling' happens, I'll be showing my catcallers within the period of one month. By making the selfie, both the objectifier and the object are assembled in one composition. Myself, as the object standing in front of the catcallers represents the reversed power ratio, which is caused by this project. Please join me in the fight and post your own #dearcatcallers or send me a DM.
The post contains the following hashtags: #dearcatcallers #catcalling #catcallers #feminism
Since August 29th, Jansma has posted 23 selfies with men who supposedly harassed or catcalled her in the street. She did this as a way of "exposing" and shaming these men.
From a purely fame seeking standpoint, the Dearcatcallers "project" was a success.
As of now, the Dearcatcallers Instagram account has 289K followers and does not seem to be slowing down anytime soon.
The story surrounding this project has also gone viral because the mainstream media has relentlessly reported on this story in an all too predictable manner.
The MSM is heavily promoting this story as a way of:
1) Glorifying Jansma by commending her ingenuity and "bravery."
2) Vilifying men and anything associated with masculinity.
However, this story (like the majority of "stories" promoted by the MSM) contains many holes and is riddled with agendas.
We will take a look at some of them in this article. But before we do that, here is one interesting fact that the mainstream media has failed to report on.
Noa Jansma is not the originator of #dearcatcallers.
That "honor" belongs to the @lgbt.acethetic Instagram account.
Here is a screenshot of that image.
As you can see, this post also contains zero evidence of catcalling because it's nothing more than a selfie of an average looking girl with a story (that she could have made up).
Ask yourself this: Do millennial women like Noa Jansma lie?
Absolutely.
One of the reasons why millennial women are such an interesting topic of study is because it is within this demographic where we have seen the parameters of lying expand.
Women lie all the time and they lie for a multitude of reasons. Some of the more prominent reasons for lying include:
1) Reputation
Millennial women will do anything to save face. Lying is small price to pay when it comes to upholding reputation even if this means ruining an innocent person's life.
One trend that has been normalized in recent years is the REGRET = RAPE trend.
Do we really need to go over all of the instances where women have made false rape accusations in order to either uphold their own reputations or bask in the attention of victim-hood?
Some of the more prominent rape hoaxes include:
If that's not enough proof, read this article about the 12 ridiculous reasons behind why 12 women lied about being raped.
Crying "rape", "assault", or "harassment" has become a new GET OUT OF JAIL FREE CARD.
Millennial women know they can drop one of those terms and the whole world will give them attention and take them for their word.
Here is a video of a crazy feminist trying to do just that.
Imagine if there was zero video evidence and the only "proof" was the word of this mentally ill woman.
Good thing there was video proof!
2) Fame and fortune
Millennial women will do just about anything to get fame and fortune.
Some blatantly whore themselves out on Instagram.
Others follow the Kim Kardashian game-plan and leak their own sex tape.
However, most millennial women keep it simple. They burn bridges. They screw over their best friends and turn their backs on family.
Once again, lying is a small price many millennial women will pay in the quest for fame and fortune.
Here is a video of a woman beating herself up in order to get her millionaire husband arrested:
Again, thankfully, there was video surveillance to refute this psychotic woman's claims. I wonder who's word the masses would take if all you had to go off of was the word of an angry, bruised woman.
3) Validation
However, perhaps the biggest reason why women lie today relates to validation.
Social media has essentially created a generation of "validation junkies" where people no longer live for themselves.
Studies show that social media is literally sucking the happiness out of people.
That's what happens when you ignore reality and live for the other side of the screen.
Real-life conversations and connection are now followers, likes, and DMs.
Validation is the new opium of the masses and millennial women are the primary addicts.
What validation are we talking about exactly?
Well, ask yourself this: What is a woman's primary concern in life? What does she value above all else?
Her physical attractiveness. 
Women are constantly second guessing their own physical attractiveness.
If they are in fact attractive, they constantly need to be reminded.
If they are not attractive, they will compromise their values and do whatever it takes to get that validation.
Either way social media is the engine that keeps this machine running because social media is the means by which millennial women get their validation.
One programmable behavior that has cropped up in recent years is something I like to call manufactured attractiveness.
Millennial women are very skilled at enhancing their attractiveness without actually becoming more attractive.
They typically do this by heavily exaggerating their demand. Examples of these tactics include:
 Bragging about how guys are all over them.
 Exaggerating the extent to which guys hit on them.
 Completely making up stories about guys hitting on them.
Fabricating stories about guys being creepy.
Mainstream media hoaxer Michelle Fields is notorious for making up stories at the expense of men, like when she accused Seth MacFarlane of hitting on her at a gas station when she was in high school.
Where is the proof? There is none and yet the masses took her for her word.
This is a textbook example of a woman manipulating her demand. Millennial women love to make up stories to give off the illusion of being "wanted."
They also love to play the victim role because victims get attention. Millennial women know this and exploit this role any chance they get.
Is there any evidence that Noa Jansma is lying and Dearcatcallers is a hoax?
I'm not buying Noa Jansma's story and neither should you because as usual, there is a lack of evidence.
A credible story must have sufficient evidence and this story simply does not have that.
The problem with Jansma's story is that every single selfie is exactly the same in concept.
There is no evidence of harassment of any kind. Every picture is a selfie of Jansma with her alleged catcaller(s) either posing with her or in the background. She has the same cold, lifeless look in every single picture.
I encourage you to go through the Dearcatcallers Instagram. You will find nothing. You will find zero videos or photographs showing any hint of harassment.
Anybody can go take a bunch of selfies with people in a big city and make up any story they want.
The fact that she is attractive and all the men in her selfies appear to be ugly and dirty (a few look homeless) magnifies the perception of "harassment" and "creepiness."
People tend to judge a book by its cover and equate ugly men in the vicinity of women as "creeps."
These are the Dearcatcallers posts that I suspect are completely made up.
I use the term "made up" because I do not believe her caption for the post.
"Wohoo look! *laughing and loud whistling"
I'm not buying it.
Noa Jasnma seems to be like every other millennial woman in believing (or wanting everyone to believe) that she is more attractive than she really is.
In this picture, the men in the background appear to be drinking and smoking cigarettes. One guy is looking at her taking the selfie.
Maybe he's wondering why this random girl is taking a picture of him and his friends?
This is simply an old man in a car. He looks like the stereotypical creepy old guy, but is he?
There is zero evidence suggesting this to be true.
I don't believe that this old guy went out of his way to sing a Rihanna song to her. Neither should you.
This guy is a puffy-face, low-T, beta male cuck. Do you really think he said that?
Why is the media glorifiying Noa Jansma and what is the real purpose  of Dearcatcallers?
The media is glorifying Noa Jansma and running with her story because it fits their feminist agenda.
It also coincides with their cultural war on men.
The cultural war on men is a term used to refer to the systemic cultural castration of men that takes place in the media and entertainment complexes.
Have you noticed in recent years that the media has really upped their efforts to promote stories just like this as a way of shaming men and vilifying masculinity?
Stories like this that shame men are pumped out on a daily basis as a means changing public perception and molding mass consciousness.
So what is the real purpose of Dearcatcallers?
The real purpose is mental warfare. Dearcatcallers and the entire dearcatcallers movement is nothing more than a psychological operation.
The media is running with this story because it's just another story they can repeat over and over again in order to hammer this idea of "toxic masculinity" into mass consciousness.
It doesn't matter that there is zero proof of any wrong doing. It doesn't matter than Noa Jansma could have (and likely did) made up the nature of these encounters.
The mainstream media is running with this story as a way instilling fear in the masses.
Women are going to read this story and think: "I could be next."
Men are going to see this story pop up on their Facebook feed and think: "Why bother? The same could happen to me if I try to talk to a chick."
This socially engineered "discouragement" of relations between the two sexes hints at a dark, ulterior motive for the future of civilization.
This is covered extensively in Of Tyrants & Tellers.
Final Assessment: The Ultimate Flaw in Noa Jansma's Story and the problem with the Dearcatcallers Mass Hysteria
Can we know for certain that Noa Jansma completely fabricated the encounters she posted on the Dearcatcallers account?
No, but we can heavily speculate because there is no definitive proof of anything.
There are no videos.
None of the posted photos show any evidence of any harassment or catcalling.
So we have a few photos and the "word" of a millennial woman to go off of. Is that enough to vilify these men and potentially damage their reputations?
Absolutely not.
Furthermore, as was clearly explained at the beginning of this article, it is downright foolish to take a millennial woman for her word for any reason.
Millennial women will lie about anything. They lie when it's convenient. They lie to protect their reputation.
When fame and validation are thrown into the mix, you better believe millennial women, just like Noa Jansma, will lie.
And that's exactly how this whole situation comes off. This isn't about spreading "awareness".
Above all, this is about validation and pouncing at the opportunity to shame men.
Miss Jansma got her validation:
1) The @dearcatcallers account has over 289K followers. She's famous!
2) Tons of people have liked, shared, and commented on her posts.
3) Tons of people have reaffirmed her belief that she is beautiful via commenting.
4) The mainstream media is celebrating her as a modern-day hero while at the same time capitalizing on this situation as a way of culturally attacking men.
However, the ultimate flaw in this story lies with the people who buy the Dearcatcallers story.
The masses automatically take this woman for her word because they have been programmed to believe anything. On top of that, they have been programmed to want this story to be true.
1) People want to believe that an attractive woman is telling the truth and would never have a reason to lie or fabricate a story.
2) They want to believe that these unattractive men are sub-human creeps who bother this girl.
3) They want to believe that masculinity is toxic.
The people want to believe all of it is true…
The Of Tyrants & Tellers Challenge to Dearcatcallers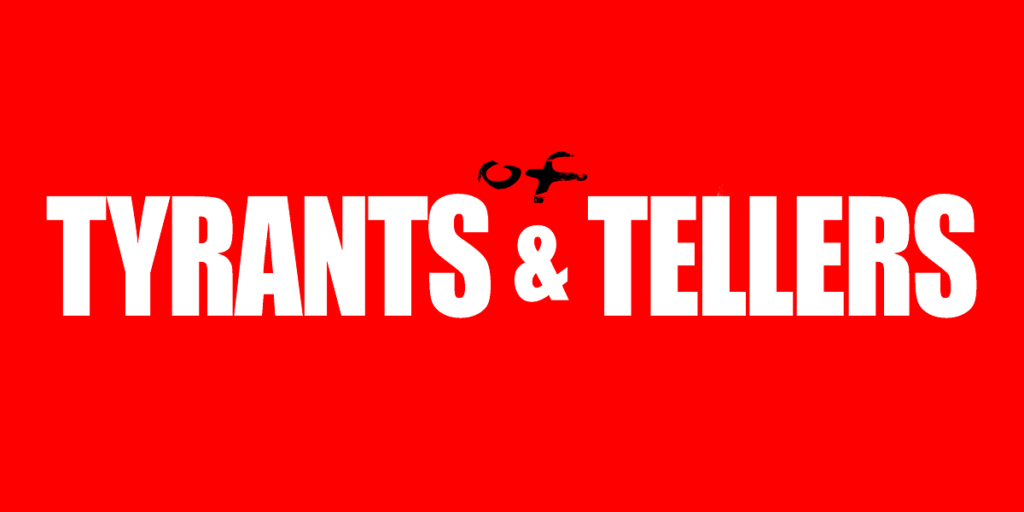 In the world Of Tyrants & Tellers, we do not take the media for their word.
So here is the Of Tyrants & Tellers Challenge to the #dearcatcallers movement.
Step your game up and get some real video proof.
As of now, you have 236 posts with the #dearcatcallers hashtag. Not one of these posts shows any evidence of catcalling or harassment.
They are all selfies of average to below average women with cold, lifeless eyes.
You never put your phones down and already record everything. Record something important instead of throwing a dog filter on everything.
Then the world will take your "awareness movement" seriously. Until then, you're nothing but a bunch of validation seeking liars.
And to those of you are sick and tired of the media's all out war on masculinity, buy my book Of Tyrants & Tellers.
Of Tyrants & Tellers is the world's first system designed to combat the media's cultural and chemical war on masculinity.
The first part exposes all the facts behind this culture war, as well as the secret elites' ultimate goal.
The second part gives you the tools needed to weaponize your mind, body, and spirit.
You will become a force.
There is a reason why this book was the #1 New Release in 3 separate categories.
Get your copy now and be sure to leave us an honest review.

Share This:

73

0

0