Get Taller: A Complete Guide to Natural Height Growth
Brief Background– This Strength By Sonny Exclusive is for anyone who wants to learn how to get taller by means of natural height growth. I emphasize how to get taller naturally because leg lengthening surgery and using pharmaceutical grade HGH are expensive options.
They simply are not practical for the average individual.
Back in 2013, I measured in at 6'0″ (182.88 cm). In May 2014, I was in a very bad car accident that did permanent damage to my lower back. I went through several months of rehab to help strengthen the muscles on the right side of my lower back.
I never thought much about my height or had any desire to get taller until March 2016. One day I just realized that I felt a lot shorter than I used to be. My friends who had always been shorter than me were suddenly about the same height as me.
My apparent height shrinkage was very gradual until it became obvious.
I went to the doctor for a checkup and got the nurse to measure me. I measured in at just under 5'9″ (175.26 cm).
For the first time in my adult life, I was actually self-conscious about my height.
What the hell happened? Years of poor posture, stiffness, and gravity happened.
Poor Posture- Poor posture was the result of my accident and years of being hunched over a computer (and smartphone).
Stiffness- I was stiff because I hadn't focused on mobility and function in almost a decade. Once I stopped playing sports in high school, all I did was lift weights. I stopped doing my rehab exercises once my back felt better.
Gravity- Height shrinkage is inevitable with age.
So how do you get taller?
You get taller by combating poor posture, stiffness, and gravity.
In March, I developed my own program to get taller. I did this program every single morning for 6 months straight.
In September 2016, I measured in at 6'1″ (185.42 cm.). Over the course of 6 months, I grew just over 4 inches.
You will grow if you pay attention and do exactly what I say.
Now it's time for you to stand tall because life is a lot better when you max out your height.
---
Get Taller With These 5 Tips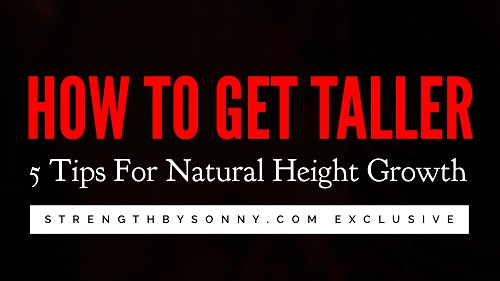 Before we get into the actual program it is important that we first go over some general guidelines or tips. This is the important information that you must keep in mind during this program. These tips must be executed in conjunction with this natural height growth program.
1. Height is largely determined by genetics. 
Both of your parents' heights matter but it is your father's height that is usually the most accurate predictor of your potential height.
Tall Father = You will likely be tall.
Short Father = You will likely be short.
This program is not a miracle cure. If you are 5'5″ you probably won't reach 6'0″ with 6 months of stretching exercises. However, 1-2 inches is totally within reach.
2. Sleep is the most important factor within your control.
Everybody says get 8 hours of sleep but they never get any more specific than that.
For this program, you must get 10-11 hours of deep sleep every night.
In other words, you need 10-11 hours of that knockout type of sleep where you wake each day feeling completely refreshed.
Deep or slow wave sleep is important because it promotes the production of human growth hormone (HGH) in the pituitary gland.
In order to facilitate deep sleep, you should lay down in a calm, dark environment.
If you are having trouble getting deep, dark sleep use the following:
Sleep Mask- A sleep mask helps you sleep in darkness by eliminating any light from your line of vision.
I use this one.
Melatonin- Melatonin helps combat sleep problems by helping you sleep deeper.
I take this one.
3. Avoid Growth-Stunting Factors.
Poor sleep
Poor nutrition
Smoking cigarettes
Using drugs
Stress
While there's isn't any concrete evidence that any one of these factors stunts growth, why risk it?
Better yet, what are the chances that these factors will have a positive impact on your height?
Growing taller or maxing out your height is like anything in life. It is a game of odds.
You make all the high probability moves that bring you closer toward your goal and avoid the low probability moves that potentially move you away from your goal.
4. Eat right and use the right supplements.
There's no special height growth diet.
Just make sure you eat plenty of lean protein and stay away from the simple carbohydrates.
Avoid sugar as well.
*** Since March, I have increased my consumption of broccoli. I used to eat it sporadically whereas since March, I have eaten it every day.
While there is no definitive proof that eating broccoli helped, what are the chances that it hurt?
As far as supplements are concerned, there are no magic pills.
During my research, I have seen supplements such as ashwagandha toted as the next revolutionary magic pill to help you get taller.
In all likelihood, all magic height boosting supplements are just like all over the counter test boosters, they're all a scam.
So what supplements work? Just the basics.
There are numerous scientific studies that prove that zinc deficiency is related to stunted growth.
See Does zinc deficiency play a role in stunting among primary school children in NE Thailand? (PubMed)
Increase your zinc intake by eating foods rich in zinc and using a zinc supplement.
I use this one.
 (Take it right before bed.)
Vitamin D promotes bone and muscle growth. Studies have linked a deficiency in Vitamin D to stunted growth and weight gain.
Daily sun exposure and supplementing with Vitamin D should be sufficient. My doctor recommended 10,000 i.u. per day (in the morning).
I take this one.
 (Take 10,000 i.u. in the morning.)
Supplements that specifically promote bone health are important because strong, healthy bones are crucial to not only getting taller but also combating future height loss.
I use Bone-Up because it contains Vitamin D, Zinc, Calcium, and specifically promotes bone mineral density.
Get it here.
5. Exercise.
You must exercise because if you don't, you will slowly decay both physically and mentally.
An exercise program that incorporates lifting weights and cardio vascular training is ideal.
Movement is a must. You have to do something. Anything!
Even if all you do is walk for 20 minutes during your lunch break at work, anything is better than nothing.
When you do nothing, your entire body becomes stiff and compact. You shrink like a diamond.
Corporate slaves shrink by the day because they sit at their desk eternally hunched over a computer.
---
The Strength By Sonny "Get Taller" Morning Routine
Here is the routine broken down by individual movement. I also include my thoughts on each stretch. In other words, what should be going on inside your head?
Movement #1
This is the first movement in the routine. With this movement, you are stretching your entire body out one side at a time.
You should feel this movement really stretch out the side of your lats.
Imagine yourself trying to grab something high above your head. Your life depends on it but it's just out of reach.
Look up and imagine it. Open and close your hand repeatedly to make it seem more realistic. Stand up on your tippy toes.
You can execute this movement once each side or twice.
Movement #2
With this movement, your hands are joined together as if you are going to dive into a pool.
Except you're not diving into a pool, you're reaching high for the heavens.
Stand up on your tippy toes. Keep the waist tight and execute a vacuum pose as you reach as high as you can.
Imagine your entire body stretching out and getting longer.
Execute this movement twice in a row.
Movement #3
The abundance pose is a must in any stretching routine if you want to get taller. (It also helps lower cortisol and raise testosterone.)
You are literally opening up to the world as you stretch out your entire body.
Spread your wings like an eagle, arch your back, and raise up on your tippy toes.
It's okay if you stumble.
Do this movement 3 times, each time arching your back further than the last time.
See if you can move like Neo in The Matrix.
Movement #4
With this movement, you are on the ground stretching forward.
Opposite arm opposite leg, stretch out your entire body!
Claw forward because every inch counts. Feel your leg clawing backwards.
It helps to have something barely reachable in front of you (like the edge of a mat) because this forces you to claw for that extra inch.
Like Al Pacino said, "We claw with our fingernails for that inch!"
Do this movement 2 times for each side.
Movement #5
This movement is the exact same as Movement #4. The only difference is that you are on an angle in both instances.
Don't forget to claw with your hands and feet!
Do this movement 2 times for each side.
Movement #6
This is the most difficult movement because it requires some balancing skills.
With this movement, you are on your hands and knees facing forward.
Using your opposite arm and opposite leg, reach for the heavens with both your hand and your foot.
Imagine yourself joining your hand and your foot above the center of your spine.
Do this movement 2 times for each side.
Movement #7
With this movement, you are on your knees. Your legs do not move.
Claw forward with your arms and stretch as far forward as you can go.
Keep the waist tight in a vacuum pose.
Do this movement 1 time.
Movement #8
Hanging from a bar is the most direct way to stretch out your entire body and fight against gravity.
As you age, gravity compresses your body like a diamond.
The first position is a straight dead hang where you hold on to the bar with both arms while your legs hang straight down.
In the second position, you are curling your legs backward and arching your back. Imagine you are trying to use your feet to grab your head.
The final two positions are where you hold on to the bar with only one arm. Lean your body toward the side that is holding on to the bar.
When you are hanging with only one arm it's better to have your feet on the ground in order to prevent uncontrolled hanging. Wild, uncontrolled hanging can lead to injuries, such as a dislocated shoulder.
---
"When will I actually get taller?", FAQ, & Final Words of Encouragement
One day in March 2016, I randomly started stretching in the morning because I was noticeably shorter than I was 3 years prior and I wanted to get taller.
Those stretches became a daily habit and eventually they developed into program for others to follow.
I started in March and I never stopped or took any breaks.
I did a ton of travelling in 2016 but I always found time to do this natural height growth routine.
Las Vegas, NV
the beach at Hermosa Beach, CA
my hotel rooms in Fruita, CO; Topeka, KS; London, OH and many more
by the Montauk Lighthouse and on the shores of Fire Island
my current home in North Carolina
I never made excuses. From March 2016 to September 2016, all I did was show up everyday and execute the game plan you just witnessed.
Question: "How long will it take for me to get taller?"
Answer: It takes as long as it takes. Everyone is different. Some people (mostly older people) will do this program and not see any results because it is impossible for them to get taller because gravity has already won.
Younger guys in their teens and twenties are most likely to see a measurable growth in height because their growth plates have not fully closed yet.
Most people will see improvement in their posture, leading to measurable height growth, after a few months of consistence execution of the advice above.
Question: "You never mentioned anything about tracking height progress. Why is this?"
Answer: After nearly 3 years as a paid self-improvement consultant, I have amassed a ton of experience helping others and feel like I know a lot more about the human psyche during the journey toward accomplishment or improvement than your Average Joe.
The fact of the matter is that we live in an instant gratification society where everyone wants it now and when they don't get it now, they get discouraged. Many times they give up right away.
We are too smart informed for our own good. The beginning of any journey sucks because it's filled with failures and not knowing what the hell you are doing.
It's better to be ignorant or just plain stupid because you have no idea where you stand. You have no idea whether you are heading towards failure or success.
You just keep moving forward because that's the only thing that really matters.
Tracking progress makes people lose their minds. They become obsessive over measuring their height, weight, etc.
This causes them to break down mentally and lose hope when they don't see measurable improvement every single time. Then they give up.
I never measured my height because I just kept my head down and executed.
Slowly, I began to feel taller and more "upright." Then my friends started telling me "Wow you got taller!"
I simply waited until my next doctor's appointment to measure myself.
Question: What are the additional benefits of this routine?
Answer: Great question. This is a movement based stretching routine. If you are like me (most people are) you simply do not incorporate enough physical movement into your daily routine.
You're as stiff as a board. Lifting weights does not count because all you are doing is training your muscles.
I'm talking about fluid, functional movements.
In addition to helping you grow naturally, this program will also help eliminate that stiffness and make your body fluid again via movement.
No matter what your level of fitness is, you will become far more comfortable and confident in your body's movements.
Final Words of Encouragement
Don't give up and don't drive yourself crazy measuring your height every single day.
Visualize yourself getting taller, execute the game plan, and you will get there.
See you when I see you.
Share This:

0

0

0