Bodybuilding and the Battle Mentality- 10 Tips For Ferocious Workouts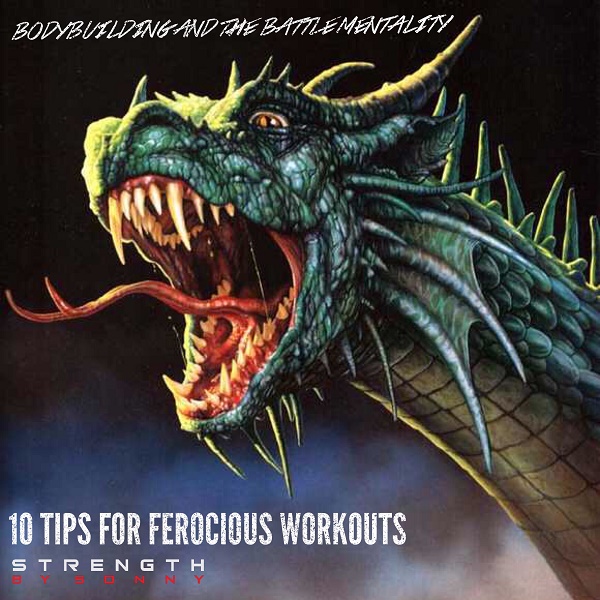 Bodybuilding and the Battle Mentality is a piece that details the ascent from darkness. Whether you've lost "it" and desperately need to rekindle the flames or never had "it" in the first place, this is for you.
---
"Fuck me."
"I'm really not looking forward to this."
"This fucking Vegas traffic."
"LVAC is always fucking packed."
"You can never find a fucking parking spot."
"Everything in the gym is always taken."
"Can't get a good workout anymore."
These are the thoughts of a mentally defeated man. These were my thoughts.
The battle mentality was gone.
This was my wake up call. The gym had always been my go to thing. No matter how shitty everything else was in my life, I could always kill it in the gym to boost my confidence.
And now I was losing that? No fucking way. There was no fucking way I was letting that happen.
I was leaving Las Vegas and my first order of business was to rediscover the battle mentality.
And that's what I did. I returned to New York and shut myself off from the world.
I bought a monthly pass at a local hardcore gym on the wrong side of the tracks and got to work.
Fuck LA Fitness. Fuck LVAC. Fuck Lifetime Fitness.
I enjoyed the glitz and glamour of "upscale" gyms long enough.
This was war and my new home was the trenches.
You see training at LVAC made me soft. It's not a place for the battle mentality because you can't really battle there.
There's too many people there. It's more of a social scene with a nightclub type atmosphere.
You can get a decent workout there but there's no battling.
There was a part of me that loved to go just to "network" with club connections and scope out the local pussy too.
Training became more about "being seen" rather than killing it and feeling the thrill of victory.
My New York gym was the perfect environment for rediscovering the battle mentality.
My gym is as old school New York as you can get.
It is in a big basement and looks like something you would see in downtown New York City in the late 70's.
There are no distractions, just iron.
This was my home for one month. One month was all I needed.
The Battle Mentality- 10 Tips For Ferocious Workouts
1. Go to a hardcore gym.
The battle mentality requires a battle-friendly environment. Fancy gyms actually have rules against battling. Not only that, they are often packed.
They're packed because
Hardcore gyms are never packed because they scare people away.
2. Roar.
Men don't roar anymore. They whine.
But that doesn't have to be you. In fact, it can't be you.
There's no such thing as a silent battlefield.
Let them hear your roar. Let them know that the beast is here. Let them hear the thrill of victory.
3. Music.
The battle mentality must be complimented with battle music.
Your music must inspire you to win.
Here's another song to add to the list…
4. Sing Your Songs.

Don't just listen to your music feel it.
Your music should be that good.
Since music is everywhere, the lyrics your hear are essentially affirmations that influence your culture.
5. Listen to Music Through a Speaker.
A portable speaker significantly enhances the listening experience.
Even the best headphones can't compare to the solidness and sound quality delivered by a portable speaker.
See (hear) for yourself.

Many complain that it's hard to get "in to" their workouts.
I've found that
Better Music + Better Listening Experience = More Enthusiasm During Your Workouts
The speaker I use (the one in the video) is the UE BOOM Wireless Bluetooth Speaker
.
6. Beat Your Chest.

Enthusiasm is a precursor for ferocity.
How do you pump yourself up during a workout? You beat your chest.
What does King Kong do after he destroys three Tyrannosauruses? He stands tall above them and beats his chest in triumph.
Modern society has conditioned men to feel shame and hide their masculinity. Fuck that.
Don't hide your enthusiasm.
Conquer the iron and fully embrace your victories.
7. Turn Off Your Phone.
Walk in any gym and you will see that many are glued to their smartphones.
The battle mentality requires 100 % of your focus.
E-mails, Instagram, and Facebook can wait.
Now is the time to conquer.
8. Mentally Prepare for Battle.
Don't just show up to the gym and wing it.
This is a horrible game plan especially when it's packed.
Instead, visualize the workout.
What time are you going to the gym today?
What body part are you going to train?
What exercises will you do?
Visualize the entire experience. Then do it.
9. Stare yourself down before "the big one".

We all know "the big one."
It's that last heavy set. It's the one you've been waiting for.
You've done your warm ups. Great. But this is the one that really counts.
Find a mirror and stare yourself down. Do you know what you're made of? Well, you're about to find out.
10 is great but champions make it to 11 and beyond…
10. Find your spirit animal.
Your spirit animal is the animal you have deep down inside you.
It's the animal you identify as with you imagine yourself as a ferocious beast.
My animal is
THE DRAGON
What's yours?
---
I'd like to thank you all for reading Bodybuilding and the Battle Mentality. This was my favorite piece I have ever written.
Remember the following and you will be on your way:
The battle mentality is a requirement for fulfilling your physical and mental potential.
Enthusiasm leads to ferocious workouts.
ABC- Always Be Conquering
Here's a bonus video for your enjoyment!
Sonny
Share This:

0

0

0