Avoid Becoming an Internet Guru Fan Boy
Are you an Internet Guru Fan Boy?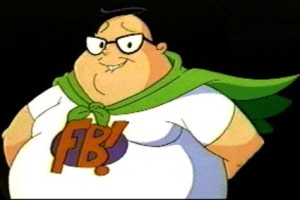 This article is not meant to expose any one guru or single out any particle groups of gurus. It's meant to educate YOU, the regular readers, on the pitfalls of blindly trusting any particular source(s) in favor of disregarding your own individual instinct.
Some of you might find this article offensive. Some of you might get so pissed off that you run away and never return to Strength By Sonny. Some of you might go so far as to share this article with your favorite "guru".
On the other hand some of you might read this and realize you have been sipping the Kool Aid for some time. You might wake up and realize that you have adopted a cult-like mentality. You might finally start thinking for yourself first and then referring to myself (and other legitimate sources of knowledge) as supplemental help.
For the majority of you, this will simply be an educational piece and an opportunity to realize just how important your own instinct is in your journey towards becoming the man you are destined to be.
Whatever the case may be, get ready for some truth spittin'.
What is an Internet Guru Fan Boy?
An Internet guru fan boy is essentially a white knight for Internet gurus. If you are unfamiliar with the term "white knight" it basically refers to males who treat women as goddesses and do nothing but shower them in compliments, telling them how perfect they are. White knights rush to a woman's aid and blindly defend her no matter what the circumstances are.
A woman exhibits slutty behavior? The white knights will line up to please her. A woman says nasty things? The white knights will back her up. A woman instigates a fight and a man decides to defend himself? The white knights will come swarming in like locusts to defend her honor.
White Knights are blinded. They don't see the truth. Or worse… they refuse to accept it.
I could post countless examples, but it would disgust me to have such beta male filth on my site. Check this forum for examples (don't lurk for too long): White Knight Forum
The same concept applies to the Internet Guru Fan Boy.
The Internet Guru Fan Boy is blinded. He accepts anything and everything from their guru as truth. When that truth is challenged by someone making a legitimate comment or questioning the claims of the author… all hell breaks loose.
The Internet guru fan boys come out in swarms blindly defending their guru/hero. It does not matter what the guru has said or done. They could have been blatantly exposed as a fraud for creating untruthful content. They could have been caught red handed lying about their past. They could be notorious for creating content that could potentially get their regular readers into trouble with the law.
It does not matter. The damage has been done. The fan boy is too far gone. They have sipped the Kool Aid. They along with the other Internet guru fan boys are blinded. They are lost because they have put so much trust and faith into their guru of choice that they have forgotten to rely on the most important source of guidance in the world… a man's own individual instinct.
If you are someone who has forgotten how to rely on instinct, check out these classic Strength By Sonny articles to get back on track:
Turn Back the Clock and Become a Social Person
How to Get Your Life on Track By Going Back in Time
You Need Some High-Quality "Me Time"
The Internet Guru Fan Boy will scratch, claw, and exhibit child-like rationale to defend their guru of choice. They cannot accept the truth. They just can't. They don't know how to rely on themselves. Furthermore, accepting the flaws of their guru's brand or teachings would be an acknowledgement of wasted time and faith.
Imagine spending thousands of dollars on products and countless hours worshiping your favorite Internet guru? What would happen if a bunch of evidence came out that blatantly proved your guru was a fraud? You probably would not be able to accept it.
How is an Internet Guru Fan Boy created?
This explanation will require an open mind on your part. I am going to say some things. Some of them might sting. This will apply to some of you. I know because it's a common theme in many of the e-mails I receive. But it will be my honest interpretation of what is going on with the upbringing of young men today and how it relates to my site (and similar sources of information).
It's no secret that there is a severe lacking of positive, masculine, male role models for young men today. Boys need their fathers.
Unfortunately, many young men grow up in households today where the father is either absent (and are raised by single mothers) or the father is regularly emasculated in front them.
Bottom line: Young men simply do not grow up respecting their fathers any more. In past generations, it was quite common for young men to have a sense of adoration for their fathers. They looked up them. They looked up to them so much that it was the norm for young men to want to "follow in their footsteps."
You see it's in the nature of a young man to want to look up to and idolize a strong, masculine role model.
However, as you all know, that type of male is clearly on the endangered species list.
So what happens? What happens is all of these young men who are looking for direction go on the Internet and they stumble upon all of these self-improvement sites that talk about picking up girls, becoming an alpha male, etc.
Some of these sites are legitimate sources of knowledge. Many are not.
The point is that many young men across the globe flock to these sites. They tell themselves that they are going to these sites to improve their lives in these areas.
Deep down, a major part of them is seeking to fill that void… that void left by not having a positive, masculine role model in their lives growing up.
They want to believe. They want to believe in a positive masculine role model who is all powerful and never wrong. This is normal.
Many young men who were fortunate enough to have fathers they looked up to also think like this.
I did. When I was a little boy, I used to think my dad was the strongest, toughest guy in the world. Funny enough, I also used to like wearing the same clothes as my dad. So we often wore matching outfits.
But eventually, I grew up. Eventually, I realized that while I had a great father, he was not perfect. He was wrong. He made mistakes. He didn't have all the answers.
I had to figure things out for myself and learn some things on my own through trial and error.
Sadly, Internet guru fan boys do not realize this. They develop the habits of blind acceptance and reliance. They blindly accept what their guru(s) have to say as truth. And they completely rely on them for all the answers in life. This is a big mistake.
Why Should You Avoid Becoming an Internet Guru Fan Boy?
You should avoid becoming an Internet guru fan boy because it is truly not in your best interest.
Again, it relates back to a man's individual instinct to achieve aka the competitive spirit. That is what is going to get you furthest in life.
An Internet Guru Fan Boy prevents himself from becoming the man he was meant to be because he is not giving himself the opportunity to get stronger.
He is unsure of himself. He is lost. He is empty.
Deep down he is fueled by anger… not the positive type of anger that can help him achieve great things but rather the type of anger that makes him lash out at people (especially people that question his undying worship of his favorite guru).
Here are the telltale signs of an Internet Guru Fan Boy
1) Backs up their guru no matter how much evidence there is proving that they are a fraud or puts forth content that steers them in the wrong direction.
2) Regularly pole jocks their guru.
3) Immediately lashes out at haters in order to defend their favorite guru.
4) Regularly posts questions on forums/messages their favorite guru asking them to essentially hold their hand through life.
*** Life questions and seeking genuine advice are great. In fact, they are welcomed. However, once you start asking questions about every single thing in your daily routine… you're in Fan Boy territory.
5) Follow their favorite guru(s) attending all of their seminars like a groupie. *** This is more evident in the PUA community.
How to move forward if you are an Internet Guru Fan Boy
First off, relax. Don't be offended. This article was meant for you. You need to take a step back and realize that you have the unhealthy habits of blind acceptance and reliance. You've been sipping the Kool Aid for too long. You blindly accept your guru as an infallible being. Nonsense. Everybody makes mistakes. Not everyone has all the answers. We all have flaws.
You rely on your guru as a de facto father figure who has all the answers to your problems and is going to hold your hand. You're not a little boy. Those days… those opportunities are gone.
A part of you wants to achieve all of the perks of being a grown man who has his shit handled while still enjoying the comforts of having your hand held during the entire process. It doesn't work like that. You cannot have it both ways. No one is going to hold your hand. More importantly, no one is going to pull the trigger for you.
Only you can make it happen. You're at the age where you must become your own masculine role model to look up to above all else. That's right. Instead of trying to fill that void with some Internet Guru, why not become your own source of inspiration?
Trust your own instinct. It won't let you down. That's how you will become a better man in the long run. Become someone worthy of self-respect. Be your own captain and steer your own ship. As far as the Internet Gurus, again trust your instinct. We might know a lot of stuff but you have to figure out what works and customize it to your own life.
Sonny
Share This:

0

0

0